Three community compost bins, sited by the allotments, are now available for use. We hope these will reduce the amount of compostable material that goes on to the bonfire whilst producing good quality compost for use on the allotments.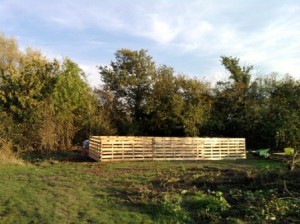 Cambridge Wood Works provided a number of large pallets free of charge for this community project. The pallets were stripped of wood from one side and then reinforced on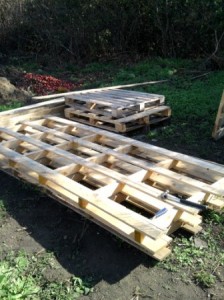 the other to create the panels from which the bins were made. In total, 3 compost bins, allowing for rotation of use,  have been created. Each bin is the large size of 10 feet wide by 10 feet deep, which with the addition of removable front panels, enables easy access for wheelbarrows to deposit waste and for a digger bucket to turn the material.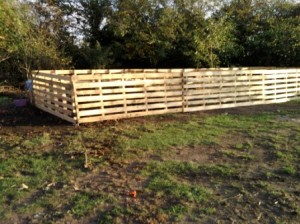 Visit http://www.cambridgewoodworks.org.uk/ for further information about Cambridge Wood Works, who provide an economic and environmentally friendly alternative to skips for timber and wood waste, collecting, reusing and recycling as much as they can.
Their reclaimed and affordable timber stock is ideal for home/garden and allotment projects and shortly they will be making clean wood fuel for stoves too.